Description



setREVStartSize({c: 'rev_slider_127_1′,rl:[1240,1240,1240,480],el:[500,500,500,400],gw:[1300,1300,1300,700],gh:[500,500,500,1000],type:'hero',justify:",layout:'fullwidth',mh:"0″});if (window.RS_MODULES!==undefined && window.RS_MODULES.modules!==undefined && window.RS_MODULES.modules["revslider1271"]!==undefined) {window.RS_MODULES.modules["revslider1271"].once = false;window.revapi127 = undefined;if (window.RS_MODULES.checkMinimal!==undefined) window.RS_MODULES.checkMinimal()}
EAA/Girsan MC P35 PI OPS – the latest addition to the renowned MC P35 Carry line. Expertly crafted to combine the best features of the OPS and PI models, this pistol packs a powerful punch in its sleek and compact design. With a short barrel of just 3.88″, the MC P35 PI OPS offers versatility and is the ideal firearm for personal defense, concealed carry, and even competitive shooting.
Equipped with an optic-ready slide featuring an RMS/RMSc footprint, the MC P35 PI OPS allows you to easily attach your preferred red dot, giving you an edge in any shooting situation. Additionally, the extended beavertail design ensures a comfortable and safe shooting experience, preventing hammer bite while enhancing your grip on the firearm.
The MC P35 PI OPS also has an accessory rail, allowing you to effortlessly attach lights or lasers for enhanced accuracy in low-light conditions. The G10 grips provide a secure and firm hold, ensuring optimal control and accuracy even in wet or sweaty conditions.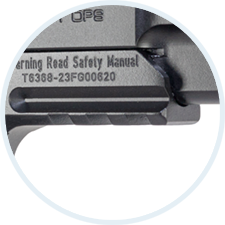 @media only screen and (max-width:800px) {.fusion-title.fusion-title-1{margin-top:15px!important;margin-bottom:!important;}}
ACCESSORY RAIL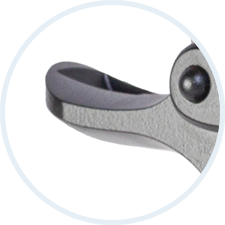 @media only screen and (max-width:800px) {.fusion-title.fusion-title-2{margin-top:15px!important;margin-bottom:!important;}}
EXTENDED BEAVERTAIL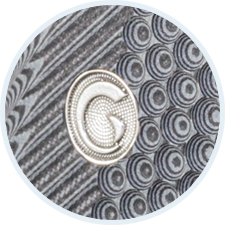 @media only screen and (max-width:800px) {.fusion-title.fusion-title-3{margin-top:15px!important;margin-bottom:!important;}}
G10 GRIPS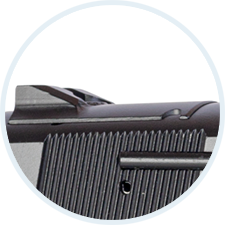 @media only screen and (max-width:800px) {.fusion-title.fusion-title-4{margin-top:15px!important;margin-bottom:!important;}}
OPTIC READY / 3 DOT SIGHTS